Standard Access Mast Climbers: Safe and Flexible
Standard Access is nationally renowned for providing affordable yet invaluable vertical access solutions to residential, commercial and industrial sectors.
Our mast climber scaffolding solutions are not only exclusive, but also affordable. Available for both sale and hire, Standard Access leverages technology to develop updated climbing systems and technical support platforms, which are safe, easily operated, efficient and affordable.
Our top-quality mast climber rental products and services are unique and in high demand across the country. We owe this success to our approach, utilising seasoned experience, creativity and expertise in conjunction with modern technology, all the while never compromising on safety or quality.
MAST CLIMBING WORK PLATFORMS
Mast climbers are supported from the ground up. Fixed to a mast section tied directly to a building, our platforms can bear larger loads whilst remaining unaffected by even the most severe weather conditions. Common applications include in cladding, façade work, bricklaying, plastering, painting, balcony works, window installation, shipyards, chimneys and refurbishment work.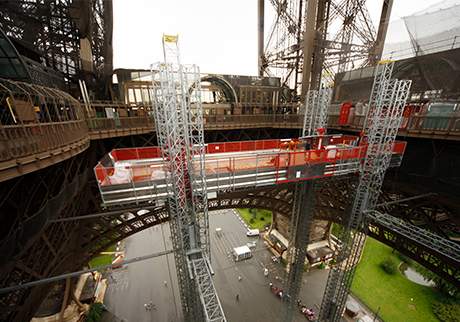 Why a Mast Climber?
Mast climbing platforms are ideal for any project, In other words reaching heights up to 200 metres and 8,000 kilogram capacity. Mast Climbers are reliable, safe and suitable for onsite working conditions.
The Benefits:
Safe and ergonomic performance allow mast climbers to withstand powerful winds.
Flexibility that allows you to work at whatever height you need.
Saves time and labour costs.
Easy transportation and reduced need for onsite storage.
Elimination of unauthorised access to project sites.
WHY OUR MAST CLIMBING WORK PLATFORMS ARE UNIQUE
Standard Access is recognised as one of Australia's premium mast climber suppliers. We set ourselves apart with our reliable solutions and unmatched service:
Our tried and tested mast climbing equipment is composed of top-quality components, which provide unyielding support when fixed to a mast section and tied directly to a building.
Secondly we provide our clients with specialised mast climbing work platform access to their constructions. These solutions not only withstand all kinds of weather but also able to handle heavy loads.
Our comprehensive range covers both purchase and rental to satisfy the different needs of our clients.
Climbers can be used in various refurbishments, such as façades, balconies, cladding, plastering, window installation, bricklaying, painting, chimneys, shipyards, etc.
Our equipment is ideal for any onsite project with heights of up to 200 metres and a load capacity of up to 8,000 kilograms.
Climbers are safe, ergonomic, reliable and easy to use and can meet your required height.
Our mast climbing platforms also help save on both time and labour costs.
Implementing our mast climbing platforms can prevent unauthorised access to your building site.
Lastly Our equipment provides great transport solutions and reduces the need to store raw materials onsite.
CALL TODAY FOR SPECIALISED MAST CLIMBING WORK PLATFORM ACCESS SOLUTIONS
Give easy, safe and efficient access to your workspace in the sky with a Standard Access mast climbing work platform! For more information and inquiries on mast climbing work platforms, please contact Standard Access on (03) 9116 4090 or sales@standardaccess.com.au.
SALES - PRODUCTS
RENTAL - PRODUCTS
TYPE
DIMENSION
CAPACITY
RANGE OF OPERATION (Levels)
DOWNLOAD PDF
SC3500
SC3500
Mast Climbing Work Platforms
Various Lengths
6-12m/min
SC4000
Mast Climbing Work Platforms
Various Lengths
6-12m/min
SC5000
Mast Climbing Work Platforms
Various Lengths
6-12m/min
SC6000
SC6000
Mast Climbing Work Platforms
Various Lengths
6-12m/min
SC8000
SC8000
Mast Climbing Work Platforms
Various Lengths
6-12m/min
SC3500
SC6000
SC8000
SC3500
SC6000
SC8000
Mast Climbing Work Platforms
Various Lengths
6-12m/min
Glide Rail
Master Climber