TIRAK™ TRACTION HOIST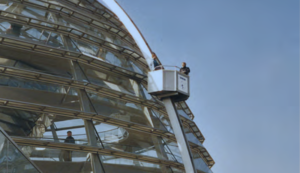 The tirak™ traction hoist – it drives the rope without reeling it in. For you, this means: You can lift and pull as far or as high as you want.
Thanks to the tirak™ rope pass-through design, unlimited rope lengths are theoretically possible, making the tirak™ a flexible option for every application.
With the tirak™ you can "climb upwards" with one rope for as far as you have to. This is why it is frequently used as a drive for man riding, as a single-person work seat and also for suspended platforms on famous high-rise buildings throughout the world.
The X-series Tirak™ Traction Hoist
The X-series models use a single traction sheave to move the rope. The rope runs through a fittingly-sized groove in the traction sheave and is also pressed into place by means of a press system. This further increases the true load-bearing capacity to ensure even greater safety. At a particular point on the traction sheave the incoming and outgoing ropes cross over, lending the X series its name.
Using this functional principle, all of the models achieve a steady and constant rope speed; regardless of the position of the load.
Tirak™ for Top-quality
The tirak™ combines proven technology with modern developments and state-of-the-art production methods in order to achieve high standards of quality.
Development and production – Made in Germany.
Durable and powerful, yet nevertheless easy to transport, the tirak™ hoist provides the highest levels of reliability and dependability even in demanding environments, such as the harsh conditions on construction sites. This is why the tirak™ has now become the No. 1 motorized traction hoist worldwide.
Tirak™ for Efficiency
Two decisive reasons for this success are the following profitability arguments:
Through the single rope drive, almost no maintenance costs are incurred beyond the mandatory safety inspections.
The extremely gentle rope drive ensures that the rope has a long service life.
Tirak™ for Safety
Numerous details ensure the greatest possible safety when using the tirak™. All of the relevant standards and safety regulations are taken into account during development.
All tirak™ systems intended for man riding are equipped with integrated overload protection which reliably shuts down the tirak™ in the event of overloading.
The highest safety standards apply when man riding. Certified to EN1808 by an independent testing authority, the tirak™ hoist fulfils all of these requirements.
DOWNLOADS